Sunny side up at O.A.T.S.
Our solar lighting is now in place at the O.A.T.S. entrance on M-15. Bill Ehrlich from
Inovateus Solar
came from more than five hours away twice to get it installed for us, and even spent the night over a holiday weekend.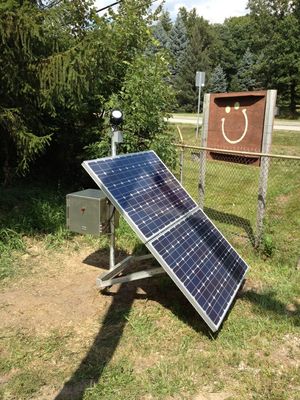 If you have a moment, you can send a thank you to Bill at
bill.ehrlich@inovateus.com
.
Make the Mane Event your main weekend event
Please join us on Sun., Sep. 23 at the
Oakland County 4-H Fairgrounds
in Davisburg for our 15th annual horse show and fair. Start out the day with a great pancake breakfast (beginning at 8:30 a.m.), then watch our riders show what they can do. Stay for lunch and as always, lots of fun activities for the whole family. The horse show starts at 9:45 a.m.; lunch is served at 11:30 a.m.
Our thoughts and deepest sympathy go out to volunteer Lynn Daniels
, whose grandfather recently passed away. You can send condolences to Lynn at 5872 Clarkston Rd., Clarkston, MI 48348-4708, or by emailing
mudypony101@yahoo.com
.
On the calendar:
The annual O.A.T.S. Dinner Dance & Silent Auction will be Sat., Feb. 16 at White Lake Oaks. We are pleased to welcome back the wonderful musical talents of Ernest Entertainment, who couldn't be there last year due to a schedule conflict.