O.A.T.S. gets a lift!
Getting some of our riders into the saddle takes a lot of muscle, either because of their disability or size. Now that we have a lift, we can help these riders mount up more safely and with less strain on our volunteers.
See it in action
.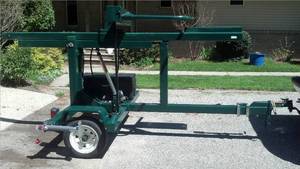 Many thanks to volunteer Kathy Jurick, who drove all the way to the Manistee area to pick it up for us.
A big IOU to OU students
We were very fortunate to have a group of nine students from Oakland University here recently, who in conjunction with their class, Communication 202, volunteered, held a fundraiser for us and made
this great video
. We can't thank you enough for your contributions to our program.
On the calendar:
Stop by our booth and say hi to volunteer Bill between 11 a.m. and 5 p.m. on Weds., July 4 at the Festival of Fun, Clintonwood Park in Clarkston. Only $5 parking fee per car.
Smiles on Saddles Day Camp sessions are Jul. 30 - Aug. 3 and Aug. 6 - Aug. 10. Camper registration form is available on our website. Let us know if you can volunteer for camp.
Although our regular classes are done until September, there are still plenty of opportunities to volunteer at O.A.T.S. See our calendar for dates and times.