Voting is now open for the Great Charity Giveaway
So many people contribute to O.A.T.S... they give their time and their money. Now here's a way you can help O.A.T.S. that won't cost you a penny and takes less than a minute:
vote for us in the Suburban Collection's Great Charity Giveaway
. First prize is $15,000; but even 10th place is worth $1,000. That's a lot of hay, either way.
Elf named mayor of Oxford
When it came to appointing the Village of Oxford's first mayor, it was Elf by a landslide.
Elf was named mayor following the pet parade/contest held in downtown's Centennial Park as part of Celebrate Oxford on Wed., Aug. 8.
Elf and volunteer Lynn Daniels even made the local paper. You can read the story in the
Oxford Leader
.
Smiles on Saddles Day Camp
We had another two great weeks of day camp thanks to our many volunteers and some special entertainment and activities. On Tues., Jul. 31,
Chris Clark
brought his many talents-- magic, juggling, puppetry and DJing-- to O.A.T.S. and treated everyone to a wonderful performance. Natalie Bohay had a wonderful idea this year-- let's have archery at camp! O.A.T.S., along with the wonderful folks from the
Oakland County Sportsmen Club
made it happen.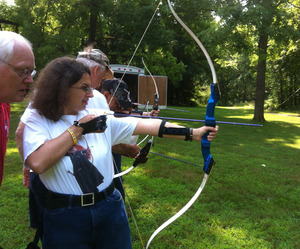 Also, many thanks to the team from
Dayco
(pictured below) for all their volunteering. They helped with our Smiles on Saddles Day Camp, mended the fence, weeded our entrance AND brought a contribution to help with rising hay costs.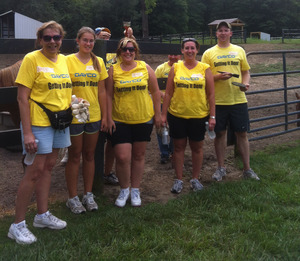 On the calendar: