Please join us in expressing our sympathy
to long-time O.A.T.S. volunteer Marge Connon. Marge's sister,
Patricia "Pat" Reeves
passed away on May 27. Visitation will be Thursday from 3:00-5:00 and 7:00-9:00 PM at
Coats Funeral Home in Waterford
. The funeral service will be Fri., Jun. 1 at 11:00 a.m. at Maranantha Baptist Church.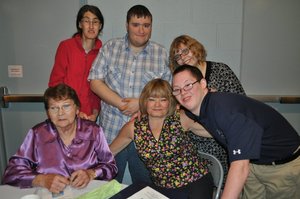 O.A.T.S. volunteer Marge Connon (far left) at the
luncheon when Nancy was named Citizen of the Year.
Marge has contributed to O.A.T.S. in more ways than we can count over the years. Week after week she brought grandson William Watts to O.A.T.S., until medical complications left William unable to ride. Marge also spent hours overseeing our returnable can and bottle collection, and used the proceeds to purchase wonderful items for our raffles. Recently, she donated funds for a new wash tub for our feed room. Thank you Marge for all the support you've given O.A.T.S. We are thinking of you at this difficult time. If you'd like to send condolences to Marge, mail them to 280 Lansing Dr., Waterford, MI 48328.
Enterprise Surprise
: Kelly Harned, mom of O.A.T.S. rider Grant, surprised us with a big check from the Enterprise Holdings Foundation, a division of
Enterprise Rent-a-Car
. Needless to say, we were glowing with appreciation as much as that check was in the sun. "Thanks again for all that you do," wrote Kelly in an email. "Grant loves your program. We are glad to be part of the O.A.T.S family and I'm glad my company could help out with a donation from our foundation."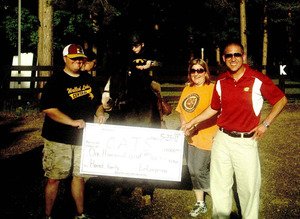 On the calendar:
Our G.O.A.L.S. (Gaining Occupational Life Skills) program begins June 18. For dates, price, registration form and more information, click here.
Smiles on Saddles Day Camp sessions are Jul. 30 - Aug. 3 and Aug. 6 - Aug. 10. Camper registration form is available on our website. Let us know if you can volunteer for camp.